I hope that everyone enjoyed the long weekend, at least everyone here in the United States.  Welcome Summer!!!  The twins are a couple of weeks old now, so we're starting to fall into a new normal as a family of seven and I'm finally beginning to feel like myself again – just a somewhat sleepy version.  With all of the excitement and uncertainties behind us, it's time to get back to planning for our future, and even hustling a bit.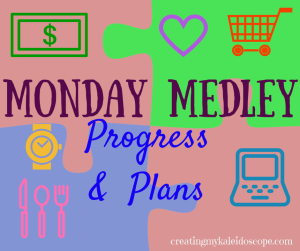 ---
---
Finances
You may recall that I was on disability due to physical issues with my pregnancy that made it pretty impossible to work – at least in any sort of productive capacity.  The disability payments were only a partial amount of my usual paycheck.  Now that the babies have made their debut, I'm on maternity leave and back to my full pay for 8 weeks (plus 4 weeks of vacation).  I do realize that how very uncommon it is to have paid maternity leave – the generous amount of time off is thanks to working for eight years for my current employer.  The return to normal paychecks is no doubt helpful to our finances – especially with no daycare costs.  However, for the time being we will probably just focus on making all regular payments, in case we encounter any issues during my leave.  We should be ahead on money once I return to work, so then we will be able to pay down some extra debt, including our final credit card!
I resumed my biannual tutoring side gig this week.  I questioned whether it would be wise to take on this work while on maternity leave.  However, it's a side hustle that I usually perform while working a full-time job and it's a completely remote position.  I'm optimistic that it won't take too much time away from my family.  And, I typically earn a couple thousand dollars from this online tutoring.  The income will help cover us if I decide to take off any additional, unpaid time off from work or we can use it to give us a big boost on paying off our debt.
The Frugal Life
Thanks to the hard work of Mr. Smith, we absolutely killed our heating bill last winter.  We used the furnace as little as possible, instead relying on our beautifully refurbished wood-burning stove.  Well, he's back at it already!  Mr. Smith has been hauling fallen trees out of the woods behind our home and chopping them up in preparation for next winter.  He's definitely on track to provide us with at least as much wood as what carried us through last year.
The garden is planted and I can't wait for the fresh tomatoes!!!  Mr. Smith did a great job tilling in our compost and planting lettuce, a couple different types of tomatoes, green peppers, zucchini (Goofball is super excited for brownies), green beans, cucumbers, and broccoli.  We bought the plants (rather than growing from seeds) for a total of around $30.  That's definitely a bargain for all of the fresh food that we will harvest from the garden.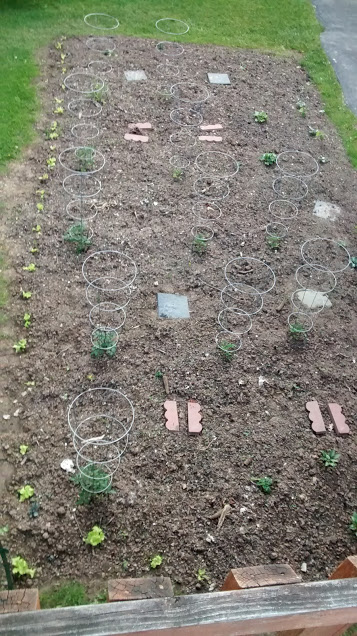 The Twins – Our BOGO Babies
One of my biggest concerns about having twins was feeding them.  I breastfed my other three children, each for a full year.  Purported health benefits for myself and the kiddos aside, breastfeeding saves a ton of money!   So far, we're doing great 🙂  I love the twin pillow that I found on Craigslist (usually $100, got it for $20).  I think it was the only thing we purchased for the twins – except for some additional crib sheets.  Note: I did not say bedding sets.  You really don't need bedding sets.  A sheet is enough, with some swaddling blankets for when they're little and bigger blankets and a pillow for when they get older.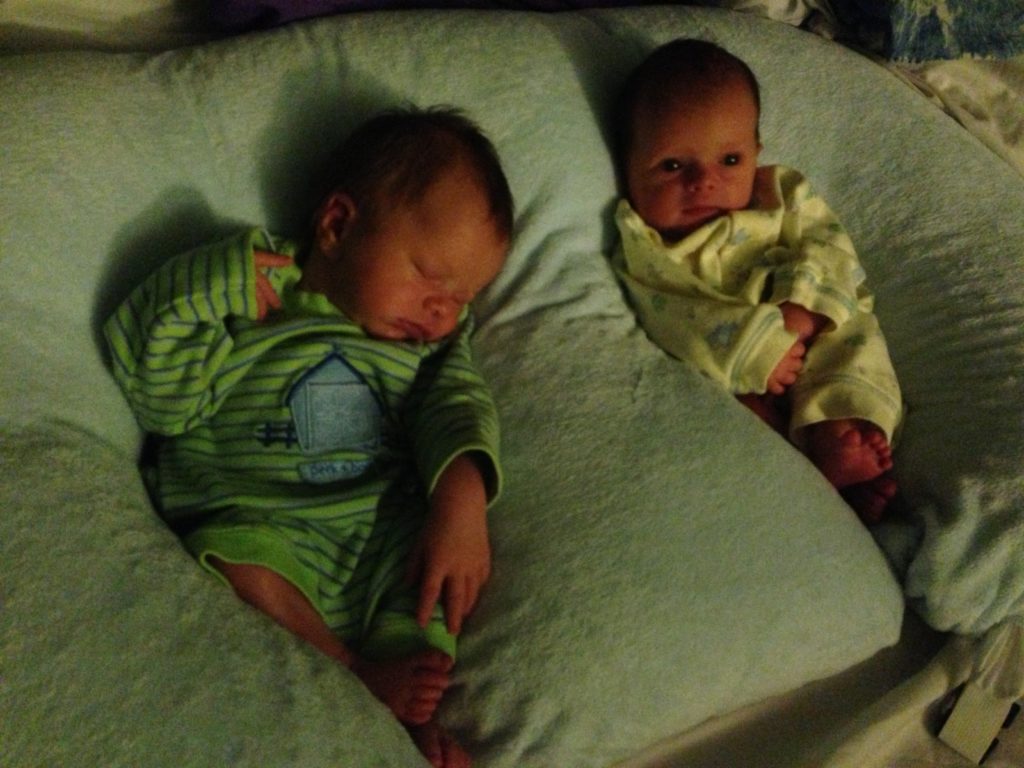 We were very fortunate to receive the doubles of everything else that we needed from our wonderful friends.  And, mostly everyone realized that we didn't need any more clothes or toys, so they have been dropping off big boxes of diapers.  Or, sending gift cards that we can use to buy diapers.  Perfect!
The boys are really sweet and so cute together.  I still can't believe that there are two of them.  The hardest thing so far is that they like to party for a few hours in the middle of the night.  The other kids just adore the twins and have been pretty helpful so far.  People say they look alike, but I can easily tell the difference between them.
Plans & Moving Forward
I definitely did not accomplish everything on my pre-twins to-do list.  I was most successful with the goal of spending some extra time with my family.  I was able to read a few books and earn some cash/gift cards fooling around on Swagbucks and InstaGC.  However, I greatly underestimated the mental and physical toll of the pregnancy.  It also didn't help that Mr. Smith became very ill twice during April.  But being unable to get anything substantial accomplished for so long, seems to now be giving me the drive to heal and get back on track.  While there is the slight issue of sleep deprivation, I finally feel driven and motivated again.  And, I can do more physically each and every day.
We have yet to make any real progress on our bus, which is frustrating because we can't travel anywhere together as a family until it's painted and a few alterations are completed.  Mr. Smith had been planning on painting it himself (it can't be yellow), but we're questioning whether that is feasible right now.  He has so much on his plate, even with me being able to help out more and more.  It's just a really intense and time-consuming endeavor.  We're looking into how much it would cost to have someone else paint it.
Little Miss Tornado is all registered for kindergarten in the fall.  She's very excited to join Goofball at "big kid school."  Our original plan had been to have one more child.  We would be sending one child off to elementary school, when there was a new baby to send to daycare – sticking with paying for only two.  We've decided that Mr. Smith simply does not make enough money for us to send three children to daycare.  He will be staying home with our three youngest boys when I return to work.  I have to admit to being a bit jealous of him, but as the breadwinner (and still paying off student loans), I really don't have any other choice.  There is some solace in the thought that my time at work should only last for a few more years.  Then, we can all spend much more time together as a family.  However, it is pretty depressing to think that this leave will be my last extended break with my family for quite a while.
To sum up: we have five children including two newborns, big plans for semi-retirement in a few years, side hustles and other goals for building passive income including maintenance of our rental property, the added demands of living a frugal lifestyle as opposed to a convenient one, and only a couple of months left to enjoy time together as a family.  Yep, we have a lot going on.  I think our best strategy is to be as purposeful as possible over the next few months, remembering our priorities, and keeping an eye on a few discrete goals.  Any advice for us?