Hopefully everyone recently enjoyed celebrating Father's Day.  My own father hasn't come up very much on this blog, but our relationship was an instrumental part of my formative years.  While our bond has changed over time, I'm very thankful to still have him around.  The paths of financial independence or early retirement were never really discussed, let alone encouraged, during my childhood.  I suspect that the same is true for most people.  However, there were some money lessons from my dad that have helped to shape my plans for the future.  The most powerful lessons were the inadvertently-taught ones, those instilled merely by observing his habits, successes, and failures with money.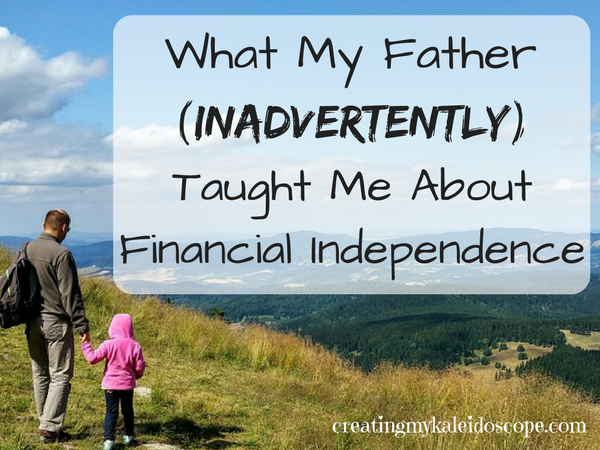 My father is no millionaire next door; instead, he still does work here and there to make a little extra money, to supplement his social security.  He will not be spending his "golden years" traveling the world or enjoying any real luxuries.  My father never taught me anything about the stock market or other types of investing.   He is not particularly thrifty or frugal.  His greatest financial lessons have been taught by sharing his experiences with me.
My mother was my dad's second wife, so he was a bit older than the typical father.  He was a college professor when I was a child, and already well-established by that point.  When my mother pressured him to move our family across the country, he agreed and I believe he was able to get a modest retirement package from the college (back in the early 90's).  I don't know all of the financial details, but he must have had quite a bit of money in savings, before we started moving.
From about the time I was in fourth grade until high school, my family moved back and forth across the country, a whole bunch of times. The moving came with tons of expenses from eating out to moving vans and storage facilities.  We lived in rented homes for the most part, other than a six month period that we actually lived in a motel  (I don't even want to think about how much that cost).  By the time we actually settled down again, my parents were divorced (more expenses).  Fast forward to the present, and my father been able to live fairly comfortably without a paycheck, thanks to social security and maybe some continued benefits from his days as a professor . . . just with limited options.
My father retired a few years earlier than most, but that wasn't his plan and he isn't slowly withdrawing 4% from investments.  What could he have taught me about FIRE?
Families Benefit From Parents With Flexible Schedules
We went through some pretty rough times, but I'll always remember the awesome perk of having a dad who was always around.  He hasn't worked a full-time job since I was in elementary school. My father could give me rides, take care of my siblings and I on days off from school, and was always there if we needed to come home sick.  We may have even played hooky once and a while and gone out to lunch together.  It was really nice.  No job also meant that we could spend our entire summer on vacation in Maine.  He had no work responsibilities following him home on weekends, so we were always free from schedules, able to explore and do as we pleased each day.
After growing up with an always-available parent, it's no wonder that I hate leaving my kids to commute to an office all week.  Then there are the nights and weekends when various assignments monopolize my attention.  One of the main reasons I'm working towards semi-retirement is so there will be more flexibility and freedom to be there for my children.  It's really, really hard to spend meaningful time together on busy weekdays, when you're gone nine to ten hours every day.  Everything gets crammed into hectic weekends and short vacations here and there.  I want better for my children – like I had.
Cash Is King
You know how dads have those stories that they tell over and over again?  My father always loves talking about going to purchase his cars in cash.  He has always been so proud of the way that he haggles down the price by never having to finance any of his vehicles.  In having the cash to buy his vehicles outright, he would get a better price.  Also, he could afford to walk away if the bottom line wasn't good enough.
My dad taught me one of the fundamentals of FIRE – the power of having assets.  The goal is to be financially independent, meaning that you don't have to rely on others or borrow money to survive or enjoy life.
Never Stop Learning Or Trying New Things
My father decided to go to law school, for fun, when I was in high school.  As a professor, he was used to being able to audit courses of interest.  The divorce peaked his curiosity about family law, but the local law school informed him that they didn't allow people to audit courses.  So, what does my dad do?  He starts studying for the LSAT and before you know it, he has a law degree!
My dad (for some reason) really enjoyed law school and continues to do a little bit of legal work on occasion.  It would have been far more difficult to pursue this interest if he was dependent on a full-time income.  I'm also someone who enjoys learning and immersing myself in new things.  FIRE gives you such limitless opportunities to use your time to better yourself.  I want to also have the option to follow new paths, whenever and whatever.
Life Doesn't Always Work Out The Way We Planned
My dad thought that we would make one move and start living our new life.  He never envisioned how much the costs of our living expenses would spiral out of control.  Would the move have been so disastrous to my dad's finances if he had devised a backup plan?  If he had at least waited to sell our house until we tested out the waters in our new home state?  Probably not.
We never know how things are going to turn out.  On the one hand, my father's experience teaches me to build flexibility into our plans for the future.  It also feels a bit like a warning.  There is plenty of encouragement to impulsively pursue our passions –  YOLO, right?  But what happens when dreams don't come to fruition?  We only hear the success stories, while there are surely others who reached for the moon and didn't quite land among the stars.
My dad's experience taught me to continually make assessments during our journey towards financial semi-independence.  We need to make the conscious decision to stop and reconsider our motives and goals every so often.  Otherwise, we might get trapped on a path due to stubbornness instead of desire.
Invest In Your Dreams
My father loves Maine.  He speaks so fondly of spending his summers there as a child, and wanted to share that experience with us.  For years, we camped in a tent and later, a pop-up trailer.  But his dream was to build his own log cabin, in the middle of the woods, on a lake.  He built that cabin when I was in my early teens.  It's really not a very good financial investment.  The cabin is only used by members of the family, for a total of about one month out of the year.  He pays for taxes, insurance, and even some occasional maintenance.  But my dad loves that cabin and the fact that he can pass it down for our family to continue enjoying for years to come.
Dad never asked anyone (as far as I know) whether it was a good idea to build a cabin, from the ground up, far away from home.  I'm sure he considered his finances, but it was probably just to figure out how to make it happen – not whether or not to do it.  He taught me that we have to be true to our own dreams, even if they don't make sense to anyone else.
---
I think his experiences have really helped me to see both the luxury of freedom and instill some caution not to underestimate the unexpected.  While he hasn't held a traditional job for quite some time, I think my dad would have gladly worked a few more years to have more financial options right now.  I intend to keep these lessons in mind as we plan for the future.  We don't want to race to the finish line, only to sacrifice our financial security.  However, we will continue to work towards our dream, whether or not it makes sense to anyone else.