We're still in the process of making some big changes in my career and our plans for the future.  While I believe that babies are not that expensive, they do grow up to be children, and then teenagers and adults.  Terrifying!  That's why we have to take more of a long-term view of the costs of our growing family, as we adjust plans for the future.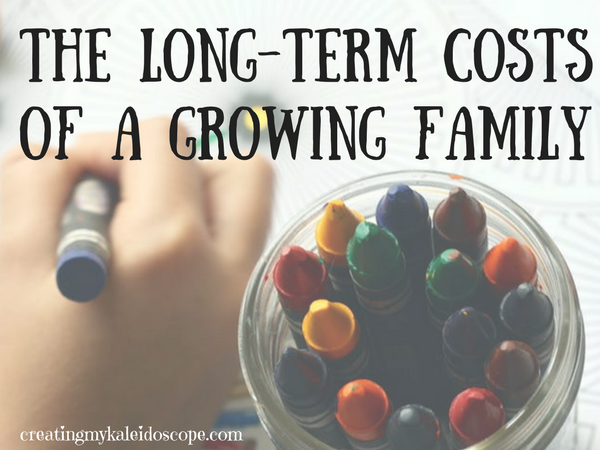 The average cost of raising a child in America is estimated at more than $233,000.  I have some issues with that number (including the fact that subsequent children should cost less), but can agree that the costs involved in raising a child from birth to the age of eighteen are substantial.  
Prepare For Major Milestones
Days fly by when you're trying to survive sleepless nights with a new baby.  Before you know it, that tiny bundle is starting school, you've outgrown your house, and you're thinking about the expenses of college and weddings.  It can be difficult to find time to think about the future when the present is so hectic, but planning ahead is always important when it comes to finances.
We should have planned better when it came to buying our home.  Our current house only has three small bedrooms.  We plan to make it work for as long as possible, but realize that it will become necessary to move as the children become older. 
If you plan to have more children or are thinking about relocating in the future, it's wise to make plans in advance. You may need to spend some time saving towards a deposit before you start searching online for homes for sale today.   It's a good idea to start by getting an idea of how much your home could be worth if you decided to sell it. 
People have asked us about just putting an addition on the house.  The issue is that we want more land with our forever home that we can use for homesteading activities (ex. big gardens and chickens).  However, this may be a good option for other families.  If so, do your research by getting some quotes.  Even if you don't have to make a decision now, it's useful to have the information to hand and to understand your options.
Many parents may decide to start setting money aside for their children in a college fund.  We've decided not to pay for college for our children, but to help them out in other ways.   may not be top of the list, but if you do have a bit of extra cash available at the end of the month, start putting as much as you can afford aside.
Save More Money At Home 
Adding children to your family comes with many unavoidable expenses, but there are always new ways to save more money at home.  You've already probably heard the suggestions to look at how much you spend on energy bills, insurance, your cell phone, and groceries per month, and searching online to get the best deals on home, health, and car insurance.  You can also check out this list of ideas on how to save more money.  
There are plenty of ways that you can save on the expenses that come with children.  We always hit up a local consignment sale for clothing, toys, and books.  But as they grow older, I understand that they probably won't be interested in shopping at second-hand stores, or Goodwill.  We try to discourage them from getting involved in too many sports/activities at one time, and we try to "shop around" as best as possible for those types of expenses.  We had scored a big win on my daughter's gymnastics lessons, because we were able to pay for  a good portion of them with a rewards card that came with my health insurance.
One way we keep our expenses so low is by having me do everyone's haircuts at home.  Hopefully the kids won't know any different, so they'll keep letting me cut their hair as they get older.  But I'm also prepared to learn some new styles via YouTube videos to keep them satisfied.
Mapping out the long-term expenses of a growing family can be tricky.  The keys are planning ahead and doing what you can to save more money at home.  If you can do those two things, I predict you'll find that raising a child doesn't have to cost a quarter of a million dollars.