It's Black Friday, the biggest shopping holiday of the year. While us frugal folks like to encourage DIY Christmas presents, odds are that you can't get away with making your own gifts for everyone.  If you are going to spend money on Christmas, here are some practical gift ideas to help your family and friends save money.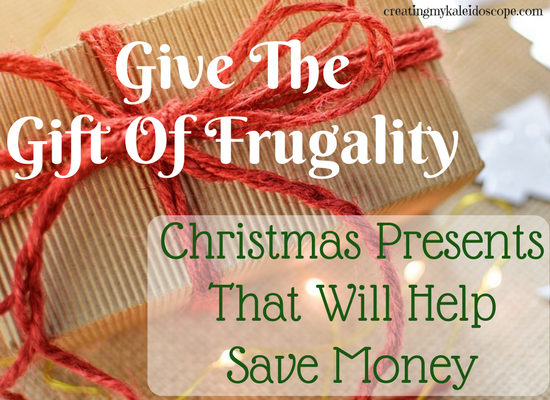 Board Games
Instead of buying more toys for kids who will quickly outgrow them, you can give timeless board games for the whole family to enjoy.  These gifts will save money on entertainment, when families stay in for a game night instead of paying to go out somewhere.
Reusable Lunch Containers
We have all heard about how much money you can save by bringing a lunch to work instead of going out to eat.  Why not make it easier on your friends and family by giving them some reusable lunch containers?  Also consider buying reusable snack bags for kids.  Families can save money on plastic baggies and it's better for the environment.
Water Filtration Bottle
Bottled water is a huge waste of money, but you don't always want to drink what's available from the public drinking fountain – if there even is one.  A water bottle with a filter in it makes a great, money-saving Christmas present.
Hair-Cutting Kit
One of the ways that we've been able to pay off thousands of dollars in debt over the past couple of years is by cutting our own hair at home.  A set of the right tools can be a good investment for the future.
Bread Maker
We love our bread machine!  It makes it so easy to bake fresh bread at home.  It tastes better and saves us a couple hundred dollars every year.


Reusable Keurig Cup
Do any of your family members love using a Keurig machine?  Those little cups can get expensive.  A great money-saving gift for Christmas would be reusable Keurig cups.  You can always package them with some fresh-ground, specialty coffee.


French Press
What about those who love to stop at the coffee shop everyday?  I know several people who swear that their French Press makes the best coffee they have ever tasted.  These devices are pretty affordable, and might just end up saving the recipient a lot of money.


Car Washing/Detailing Supplies
This is a great gift idea for someone who spends too much money on cleaning and/or detailing their car.
Rechargeable Batteries
If you're giving any presents for Christmas that require batteries, then the recipient will definitely appreciate these rechargeable ones.  A lot of people don't really think twice about buying disposable ones over and over again.  Rechargeable batteries are convenient and help save money.
Soda Stream
Now, this is a bigger present, but your loved one will save money by no longer needing to buy soda.  They can use it to make sparkling water, which is a healthier alternative, or they can make their own soda.  You can buy some interesting flavors.




Amazon Prime
I know our family would love to receive a membership to Amazon Prime for Christmas.  You've probably heard about the two-day free shipping, which can save a bunch on any type of rush order.  Prime provides plenty of other benefits too, including free streaming television programs.
Christmas is one of my favorite times of the year.  Unfortunately, it's a stressful time for a lot of people, and the pressure to spend money is one of the biggest problems.  Try talking to friends and family to set spending limits or adopt new traditions like a grab-bag game.  If you do end up purchasing gifts for Christmas, try to give the gift of frugality by helping others save money throughout the year.
Please note that this post contains affiliate links.  Purchasing anything through the links will not cost you anything extra, but will give me credit for the recommendation.