Every October we see reports on television about how much the average consumer is spending on Halloween. They buy costumes, candy, and decorations. But instead of going on about better uses for our money, why not consider what dressing up for Halloween can teach us about finances?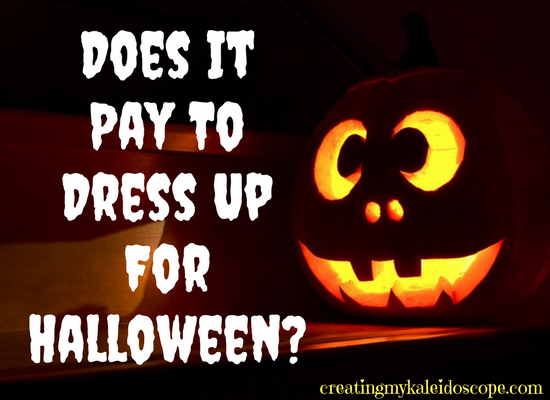 Planning ahead, working hard, and being frugal are important keys to success with money.  The same goes with Halloween costumes.  When you think about it, your Halloween costume habits can usually be broken down into one of three different methodologies.
The Last Minute Half-A$$ Costume
These folks are easily spotted as they come up your driveway.  They didn't think about Halloween until the last minute, when they suddenly decided that they wanted some candy.  These kids grab something out of the closet like a sports jersey and a piece of corresponding sports equipment.
Do they get some candy?  Sure, a little bit.  But then there are lots of other people who will say "That's not a costume" and send them packing.
These last minute barely-dresser-uppers are probably the financial equivalent of someone who never saves for retirement, but just relies on the fact that there will be social security when they reach old age.  Then, they just make do with the small amount of their free candy handout.
The Typical Trendy Store-Bought Costume
The vast majority of trick-or-treaters fall into this second category.  These kids head to the big costume stores and check out the numbered selections on the wall of costumes.  They don't think beyond this selection of whatever is most popular – or at least predicted to sell well as of a couple of months ago.  The buyer will head home with thin pieces of polyester to wear for Halloween, after spending at least $40.
These kids will get a fair amount of candy on the big night, but they will also run into a whole bunch of exact replicas as they wander about.  You'll end up hearing from the people handing out candy, things like "Oh, another Elsa."  And, you could have probably bought more candy with the amount of money that you spent on that costume.
The typical costume-in-a-bag group is a good representation of how the average individual deals with their finances.  They don't think beyond the choices up on the wall.  They spend money on something cheap and disposable and get a small return for their purchase.  These are the folks who put away a little bit of their income towards retirement, just because that's what you're supposed to do.  They will enjoy some return on their efforts, like a big bag of candy to enjoy, but only after they working for decades and decades, like trick-or-treating all night long in the rain.
The Homemade One-Of-A-Kind Costume
This last group of kids are planners.  They started thinking about their Halloween costumes over the summer.  These creative kids find materials to build their own costumes from scratch.  In doing so, they save money and make something far better than anything you can find in a store (or online).
The special costumes will usually score you more candy – your sugar reserves will be well-stocked for a long time.  Some of these costumes are even good enough to win cold, hard cash or other prizes at contests.
Out-of-the-box thinking can lead to big financial gains in the long run.  These kids are the ones who will recognize that there has to be a better way to live life, then spending decades earning money to only retire when you reach old age.  They will break away from consumerism and pursue financial independence.
This Halloween, keep an eye out for those extra-special homemade costumes.  At our house, we've got a mix of store-bought accessories and homemade elements.  I guess that fits with our financial personality – we're reformed consumers who are paying off debt with the goal of financial semi-independence.
Where do you fall on the spectrum of Halloween costumes?